Our Bulls
We focus our breeding decisions around light to moderate birth weights and as much growth as possible, with abundant marbling and muscle. We place an emphasis on fertile, sound cattle with good dispositions. We don't ignore the female side of the equation either, and make sure that replacement females are selected for udder quality and desirable maternal traits.
Donati Ranch runs a fall calving herd to fit the breeding programs of commercial producers in northern and central California. The cows calve in the early fall on irrigated pasture in the northern Sacramento Valley and are bred to leading AI sires. Our purebred cows must perform in real-life commercial conditions. There also is a small group of spring calving cows in order to supply some older bulls to our customers at the sale.
Our cowherd has been exclusively raised in our program, and carry the "D R" prefix in their pedigree. The cowherd can be traced back to many of the leading sires in the Angus breed including 6807, EXT, 036, Dateline, Fame, 6I6, Retail Product, 208, 878, 1407 and more.
The cow-calf pairs are wintered in the foothills of northern California, and are expected to thrive under the same conditions that we run our commercial herd. The bull calves are typically weaned in April and are shipped to Snyder Livestock in Yerington, NV, to be developed. Our bull calves are all developed and backgrounded with a comprehensive vaccination program. Our bulls have always tested 100% negative for BVD PI (Bovine Viral Diarrhea-Persistent infection).
We take pride in the fact that we use bulls from our purebred program in our commercial herd. Our goal is to provide our bull customers with the kind of bulls that will increase their profitability in the commercial or purebred cattle business.
GE-EPDs are available in the sale book on all Donati Ranch bulls
All of the Donati Ranch bulls in this year's sale were analyzed with the Zoetis i50K test that includes genetic predictions in the form of percent rank for the 19 traits, plus parentage verification. The enhanced EPD accuracy is equivalent to tested bulls having an initial progeny proof of roughly a dozen calves, carcasses, or daughters with performance data contributing to their EPDs (ranges from six to twenty-two progeny, depending on the trait). Combining genetic profiling with carcass and ultrasound data provides a more thorough characterization of economically relevant traits with improved accuracy on young animals.
To learn more about how to interpret Zoetis 50K test results, Click here.
Bull Sale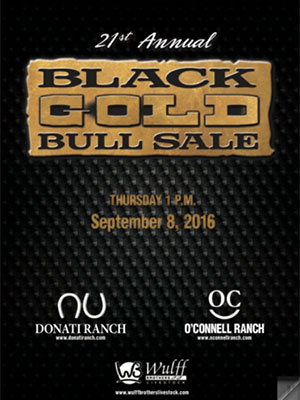 Donati bulls to sell in Black Gold Bull Sale • September 8, 2016 • 1PM • Colusa, CA (at the fairgrounds)
---
Selection Pays
$Values are multi-trait selection indexes expressed in dollars per head, to assist commercial beef producers by adding simplicity to genetic selection decisions. Click here to learn more from the American Angus Association about $Value indexes and how to use them in your bull selection.